Cleaning Sheet N-CS Overview
Continuous molding work in semiconductor sealing processes causes resin to adhere to molds, making them dirty due to generated gas. Regular cleaning and shorter cleaning time are required to reduce loss in semiconductor manufacturing processes and to maintain the quality. Our mold cleaning sheets can be used to clean in the same process as product molding. In addition, they realize cleaning in fewer processes than conventional cleaning methods, helping increase productivity.
One of the mold cleaning methods in semiconductor sealing processes is to transfer stains from the mold surface with a cleaning material composed of melamine resin. Because cleaning with melamine resin is specialized for cavities, the method is not good at cleaning air vents and parting surfaces, requiring at least 10 shots※ to remove stains. The improvement of the efficiency of cleaning processes and shorter cleaning time are required to reduce manufacturing costs.
Solution
Our mold cleaning sheets in the <N-CS Series> are cleaning materials composed of thermosetting synthetic rubber. Because they are made of synthetic rubber, you can fill entire mold surfaces including cavities and parting surfaces with cleaning materials by placing sheets on a mold, sandwiching them between molds, and heating it. This process removes stains caused by gas, thin burrs, and clogging of air vents. In addition, the cleaning agent contained in the sheets dissolves stains and removes stain components by transferring them to the sheet; therefore, the mold can be cleaned with fewer shots than cleaning with melamine resin. The sheets shorten cleaning time, which helps boost productivity. They can be applied to both transfer molding and compression molding processes.
Cleaning Performance of Mold Cleaning Sheets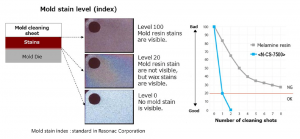 ※The graph above shows the cleaning performance as index after continuous molding work (300 shots) with our sealant. If burned stains are accumulated in a mold, a large number of shots will be required to remove them. Moreover, mold cleaning sheets may stick strongly to the accumulated stains. In that case, an overhaul of the mold is required: for example, continuous cleaning with mold cleaning sheets until the level of stains reduces to zero, and full cleaning or re-plating of molds.
Features
Shortens mold cleaning time by up to 30% (compared with cleaning with melamine resin)
Cleaning with our cleaning sheets requires a smaller number of shots than melamine resin; therefore, the sheets can shorten the required time per cleaning by up to 30%.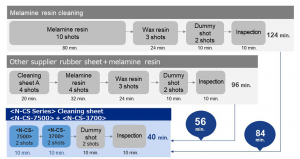 ※Conditions: Target molding material: Green compound, Target mold: mold for sealing materials (This simulation was performed by Resonac Corporation.)
※If burned stains accumulate in the mold, more shots are required than shown above.
※The combination of mold cleaning sheets and the number of shots vary depending on the molding material.
Can be applied to various shapes of molds.
The level of filling in molds varies depending on the design of cavities on your molds and the orientation of the cleaning sheet arrangement. We offer two types: Standard Type and Excellent-Filling Type. We will propose the product lineup that best suits your conditions.
N-CS provides good solution for burrs on surface of molding die, stains from gas and blocking of air vent.
As N-CS series are environment safety materials, there is less noxious fumes, contamination and corrosion of molding die after cleaning.
Line-Up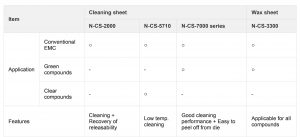 Terms of use (Recommended)
Molding method: compression molding/transfer molding
Mold: vertical type
Mold application temperature: 150 to 190℃
Target: thermosetting resin such as epoxy resin
N-CS W type -High filling performance for small-sized cavity
N-CS W type completely fills cavity of mold die without air gap.
N-CS W type is suitable for molding die with small cavity for small-sized semiconductor, diodes and mini transistor.
N-CS W type is designed in a way that cavity is not blocked when the sheet is set on the mold die at any position.
With N-CS W type, the air inside cavity can completely escape to outside and can remove off stains from the entire cavity.