Overview
Mold release sheet are used in sheet assisted molding processes. It helps to reduce flash burr in molding QFN packages.
Features
Flat molding surface can be given, because of reducing the wrinkle in loading the sheet and in clamping the mold.
The surface layer of special material sticks to the substrates and the terminals, etc.
Therefore, the sheet protects the invasion of the epoxy molding compounds, the flash is prevented.
RM Sheet in Sheet Assisted Molding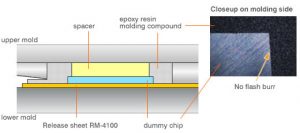 RM Sheet Characteristics and Line-Up