Managing Director's Message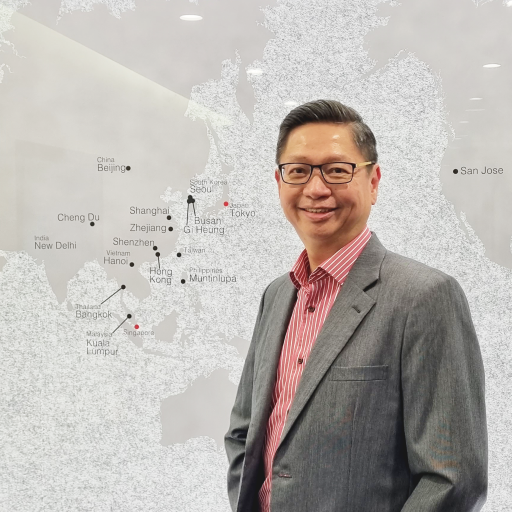 Resonac Asia Pacific Pte. Ltd. ("REAP"), a subsidiary of Resonac Corporation located in Japan, is an integrated company of Showa Denko Materials (Asia-Pacific) Pte. Ltd., Showa Denko Singapore (Pte.) Ltd. and Showa Highpolymer Singapore Pte. Ltd., amalgamated on 1st February 2023. The newly integrated company having its presence in Singapore, Malaysia, the Philippines and Vietnam serving its customers in ASEAN, South Asia and Oceania. REAP also function as the S.E.A. Regional Head Quarter of Resonac Corporation. We support all regional subsidiaries to maintain the rigor of corporate governance and putting in place a strong management system to support company business growth.
Adhere to Corporate Purpose – "Change society through the power of chemistry" and set four Values of its employees, namely "Passionate and Results-Driven", "Agile & Flexible", "Open Minds and Open Connections" and "Solid Vision and Solid Integrity".
At REAP:
We are committed to creating value for our customers by introducing high-performance products and products contributing to SDGs for various applications and not limited to Automotive, Electronic and Battery related Industries.
We respect every customer's uniqueness and values in business, and we strive to build and strengthen long-term partnerships through listening and sharing customers' values and promoting cooperation with a team of professionals inside and outside the company.
We develop robust products meeting leading edge technologies requirements in various fields with the co-creation and synergy of the integrated companies and the know-how of midstream materials technologies and downstream application technologies.
We promote a culture of close communication and creativity, providing greater autonomy to our staff for their day-to-day activities, in return, elevating customers' experiences.
We look forward to receiving your enquiries and patronage, and we ensure you a different experience with us.
Resonac Asia Pacific Pte. Ltd.
Managing Director / Sim Mong Teck
Our Vision & Mission
Vision
To be a first-choice business partner and supplier of functional chemicals and materials in various business fields
Mission
REAP – Desire to Pursue Excellence!
A reliable Southeast Asia sales and marketing hub of Resonac Corporation.
Promotes Sustainable Development of Society by developing and promoting high-performance products contributing to SDGs.
Cultivate open communication and empower people in the organisation to excel.
Company Profile
Company
Resonac Asia Pacific Pte. Ltd.
Establishment
01 April 2004
Shareholder
Resonac Corporation (Japan)
Managing Director
Mr. Sim Mong Teck
Telephone
+(65) 6836 6988
Fax
+(65) 6836 6788
Office
4 Shenton Way #16-02/06,
SGX Centre II, Singapore 068807
Corporate Philosophy
Purpose
Change society through the power of chemistry
Contribute to the sustainable development of global society by creating functions required of the times as an advanced material partner
Values
Passionate & Results-Driven
By taking pride and passion to our work,
By focusing our strengths and performance,
We will become a globally recognized top player.
Open Minds & Open Connections
By showing mutual trust and respect,
By collaborating openly beyond boundaries,
We will co-create new value with all stakeholders.
Agile & Flexible
By learning through trial-and-error,
By thinking flexibly and acting swiftly,
We will transform into a dynamic organization.
Solid Vision & Solid Integrity
We truly recognize the power and potential of chemistry,
We prioritize sustainability for future generations,
We commit to upholding our values of integrity to all stakeholders and ethics in developing chemical technologies.